Childbirth! The most cherished moment in everyone's life, the greatest ordeal for every woman, the most exciting challenge for the doctor and midwife. In Nadezhda, you will find maternity wards, combining the necessary equipment and devices with an environment as close to home as possible.
Delivery rooms for
normal
birth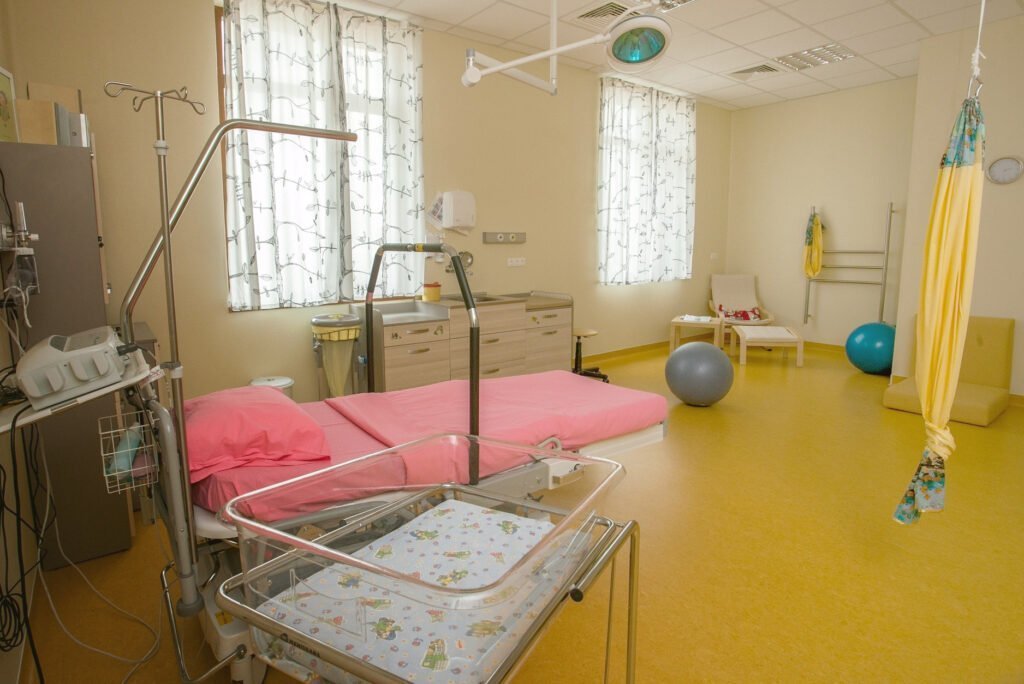 There is no 'pre-delivery' room in Nadezhda. If you are admitted for a normal birth, you will spend the hours leading up to meeting your newborn in the same delivery room, in a setting as close to home as possible, with the support of your loved one and discreet supervision by our team. At Nadezhda, you have the option of choosing how your normal birth will proceed – with the administration of medication to manage labour and medical pain relief (including epidural and spinal pain relief/anaesthesia) or in a completely natural manner without any medical intervention and the administration of medication. In the event that unexpected complications occur, you will be informed of their nature and the need for the administration of medication or surgical intervention to manage them.
We have three private delivery rooms that meet the most up-to-date medical requirements, combining the possibility of intensive medical intervention with the comfort and convenience of a home. Each is equipped with a multi-functional birthing bed, allowing different positions to be adopted at each stage of labor. In the bathrooms attached to the rooms, should you wish to, you can take advantage of the natural relaxing and analgesic effect of warm water.
Two of the rooms are equipped with birthing balls and a sling for support, and in the third room we also have a Swedish wall and mattresses for complete freedom in the movements of the laboring woman in naturally active labour. All rooms are private and allow the presence of an attendant during labour, for whom there is also a separate rest area.
Specialized
operating
room for Caesarean section
At Nadezhda, one operating room is used specifically for Caesarean section deliveries. It has a resuscitation section for the primary resuscitation care of newborns in serious condition.
In addition, emergency Caesarean sections are also performed in the emergency operating room or in the other two operating theatres.
The delivery rooms are in close proximity to the operating theatres and the resuscitation unit, which ensures exceptional speed of delivery in an emergency and when resuscitation intervention is required by our anaesthetists and resuscitation technicians.
Pregnant women often wonder what would happen to them and their birth plan if the moment came in the middle of the night. Are there any physicians and obstetricians on duty in the clinic, are they prepared to respond appropriately in any different scenario?
The Maternity Department team is sufficiently staffed and well-qualified so that you don't have to worry about the time when you will be admitted to the hospital. There are medical doctors on call at all times of the day – an obstetrician and gynaecologist, an anaesthesiologist, a neonatologist, as well as midwives. The physicians and midwives we have invited to work at Nadezhda have proven that they know how to both patiently and lovingly guide a woman through the long hours of normal labour, as well as handle operative labour, including in cases requiring emergency intervention.
Postnatal care home visits
Stay in the Postnatal Clinic