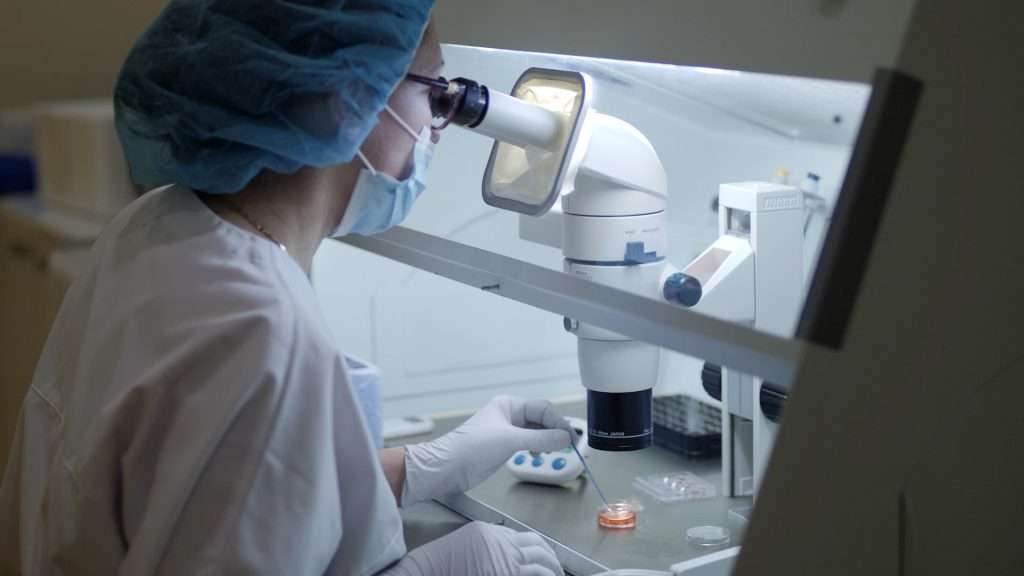 If you do not feel ready to become a mother for various reasons yet, egg freezing could be your chance to preserve your fertility for the future moment you choose to embark on your reproductive plans. This way, when you decide to do it, your chances of getting pregnant will be equal to those you had at the time you froze your eggs.
Women often wrongly think that egg freezing is done only before cancer treatment or as a part of IVF treatment. Another myth is that egg freezing is only done in women over 40. Oocyte cryopreservation is, in fact, an appropriate and justifiable solution for women in various life situations who have one major thing in common – their wish to be mothers (again) in the future.
Through the 'Keep Hope Alive' project, Nadezhda Hospital is actively engaged in fertility preservation for cancer patients and patients with autoimmune and rheumatoid diseases.
Before you start preparing for egg freezing, though, make sure you do the following:
Egg freezing
step by step
Depending on your reasons for egg freezing and the specific workflows at different clinics, the steps described below might vary. Nevertheless, there are typically four main stages you will go through:
Preliminary tests and consultations – to assess whether the procedure is feasible in your case and to check for contraindications, as well as plan the second stage;
Hormonal stimulation of the ovaries – usually, one egg matures each month in one of the ovaries. When you have to collect enough eggs for freezing, though, the ovaries are stimulated by hormonal medication so that they can grow not one but five, ten, or fifteen oocytes at once.
Egg retrieval – the oocytes have to be collected when they have matured, just before their follicles pop. This is done by a minimally invasive procedure – follicular aspiration.
Freezing of good quality eggs and finalizing long-term storage paperwork.
NB! Do your due diligence about every step of the process you are about to start.
The procedure will take up a little bit of your time. Nevertheless, you need to plan your tasks carefully and make room for the frequent check-ups you will have at the reproductive clinic over one or two weeks.
Egg freezing for
social
reasons
Below are some social reasons to consider egg freezing as an option for female fertility preservation:
If your relationship has not evolved yet or your partner does not feel ready for you to become parents;
If you have not met the partner yet who you would like to be the father of your children;
If you are facing crucial steps in your academic or career development;
If you are a mother already and you would like to hаve more children, but for various reasons, you'd prefer to do this at a later moment in the future;
If you still have not completed your list of summits to conquer before making a nest.
If you are undergoing IVF treatments but embryo freezing is unacceptable for you on religious or ethical grounds.
Cancer
and fertility preservation
When faced with this terrifying diagnosis, the first concern of our doctors and family is that we start proper treatment as soon as possible
In this challenging moment we do not always have enough information and clarity about all aspects of the forthcoming cancer treatment and its side effects. We all know that we could lose our hair for some time, but not all of us know that together with our hair, we could lose our chances to have babies. The powerful drugs used to fight cancer cells could deal a fatal blow to the gentle structures of the ovaries or testes. Ionizing radiation used in radiotherapy can have the same deleterious effects on our reproductive organs.
You might say, who would be thinking about getting pregnant and having babies when they are facing cancer! But when we sit and check all the things we have to sacrifice to fight cancer, though, the thought that we could possibly never have our own child could rob us of the last drops of courage.
Above all you need to know that not every cancer therapy causes inadvertent harm to fertility. When there is a known risk, though, medicine can help you save your chances for parenthood after cancer.
This is possible through the modern methods of assisted reproduction. They make possible the collection and long term storage of your genetic material until the day your oncologists confirm that you are healthy and can go on planning pregnancy and birth.
While in men and boys the collection and cryopreservation of their genetic material is a simple, easy and relatively cheap procedure, the collection of mature eggs from the ovaries is a bit more complex, and the procedure can only be started after a precise assessment of your reproductive status and a consultation with your cancer therapist. When the patient is in a relationship, the couple can decide to freeze not eggs but embryos (after undergoing in vitro fertilization).
The sperm, eggs or embryos collected are frozen using special methods and are stored in the cryobank under ultra-low temperatures that guarantee their viability will be preserved for years.
Depending on how soon you need to start your cancer treatment and whether your specific type of cancer is sensitive to the activity of the sex hormones in your body, there are different options for ovarian stimulation to produce a larger number of eggs.
Each patient is assessed on a case-by-case basis, and all relevant medical detail is evaluated by an interdisciplinary committee on which consultants in reproductive medicine and oncology sit. Nadezhda hospital has a standing committee on fertility preservation in cancer patients.
Whether a fertility preservation procedure would be feasible depends entirely on the individual medical details of each case and the best interest of the patient – cancer treatment is life-saving, and while there are cases when it can be safely postponed to accommodate fertility preservation, sometimes it cannot be delayed even for a week!
The primary goal of cancer treatment is saving your life and recovering your health and wellbeing, and it is your oncologist's decision to find the best option for you. If our fertility specialists have a safe window and zone of action to preserve your chances to have your offspring, we will do anything. But we will never allow you to postpone or reject the cancer treatment for the sake of fertility preservation – there are various ways in which you can become a parent, and we will support you in finding yours!
When living cells are cooled down below a certain temperature threshold, their metabolic processes are put on hold, and the clock stops ticking. They could theoretically spend months, years, and decades in such a state of deep hibernation. The temperature threshold that must be crossed to make this possible is –130°C, colder than the coldest spot on earth. The only way to achieve it is by using liquid gas – in our case, liquid nitrogen. The sample is prepared for freezing by adding one or more cryoprotectants, chemicals used to prevent cryogenic damage to cellular structures during freezing.
Does egg freezing require a
special
technology
The oocyte is indeed very special. It is the largest cell in the human body and has an extremely high content of free water molecules. Here lies the big trouble – as we know, water is the only substance that increases its volume instead of shrinking when cooled down between 4 and 0 degrees Centigrade. When water freezes, it forms gorgeous but deadly crystals – they literally cut living cells into pieces. That is why ice crystal formation is something we try to avoid at all costs when freezing living cells.
The cryobank of Nadezhda hospital